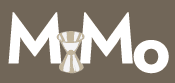 The theme for this month's
MxMo
is equal part cocktails (luckily a dash or two of bitters is allowed). From classics like the Negroni and the Last Word to new creations like Herbal Lovely Thing and Naked and Famous, these easy to make cocktails exemplify balance allowing even the most intense ingredients play in harmony with each other. I was enjoying a
Jackson's Night Cap
when inspiration hit me for my submission.
Tres Psychos
1oz Sombra Mezcal
1oz Green Chartreuse
1oz Averna Amaro
2 dashes Fernet Branca
Stir w/ ice and strain into a chilled cocktail glass or coupe
So I took the basic idea of Chartreuse, an Amaro, base spirit, and bitters and ran with it. I replaced the rye with mezcal, swapped the Yellow Chartreuse for Green, and Fernet Branca with Averna. My friend Jon suggested a dash or two of Fernet which finished the drink perfectly. The chartreuse came through most heavily on the nose with a hint of smoke from the mezcal. The rich chocolate, caramel, and vanilla notes of Averna are the first things I noticed when tasting. These were followed by the lovely herbal complexity of Green Chartreuse and the final note was smoke from the mezcal which lingered for a while. This was my first Mixology Monday and I thoroughly enjoyed it! Hope everyone enjoyed the drink. Thank you to Frederic at
Cocktail VirginSlut
for hosting.